Archive for the 'Kitchen/Dining' Category
This beautiful kitchen was designed for entertaining! Lots of space to socialize and cook at the same time. The blue pearl granite with complimentary backsplash and faux finished cabinets really make this kitchen pop. Full Butler's Pantry with dishwasher, fridge and microwave. We also designed and built a beautiful serving hutch for the eating area.
Read More
January 31, 2022
7:35 pm - Posted by admin
This custom vent a hood was the inspiration for this kitchen update. We replaced the counter tops and used a handmade tile for the backsplash. Redesigned the cabinets to add a Miele coffee maker and fireplace, making this a great kitchen to cook with family and friends.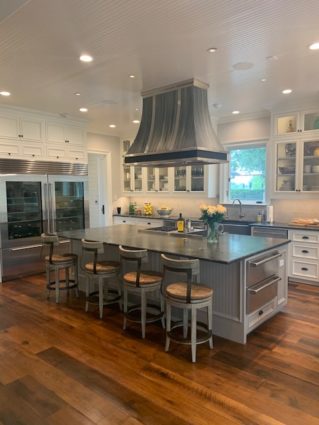 Read More
June 15, 2020
6:35 pm - Posted by admin
This custom home in Parker County has a unique rustic flare. Austin stone was used for the fireplace, back wall and column. The distressed mantel, beams and chink wall add to the rustic feel.
Read More
May 11, 2020
8:02 pm - Posted by admin